Thursday, April 7th, 2011 at 5:08 am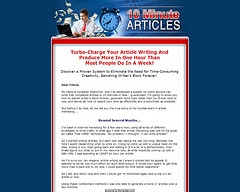 Build an informational website???

I wanted to get some tips and opinions on building an informational website. Is this a good niche? By information I mean just about anything dealing with information, such as articles, ebooks, etc. Maybe promoting other websites, etc. Oh, and also selling things such as ebooks, regular books, cd's, dvd's etc. Is this a good market? I am new to the whole small business world, but have been really trying. I do have a small website right now, but it is based on just selling variety new and used items, and I want to point toward something else. I do know about search engines, keywords, etc. so I do not need any tips on these. Thanks in advance for any answers!