Saturday, August 21st, 2010 at 10:06 am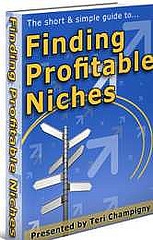 Many people want to start a blog but sometimes they get stuck when deciding what to write about. Nowadays writing a blog is the most effective way to share your thoughts with your niche. Huh? We hear all the time about finding a niche, but some might ask, what exactly is a niche? Or How do you find a niche?. Let's star answering by defining what a niche is. A niche market is a relatively small-size market that contains individuals with very close characteristics and exact needs. So offering a specialized product to that market will raise attention to every single person you are targeting.
But how do you find a niche? One of the first steps for doing that is to take a look around you, markets are everywhere and there are millions. To the extend of this answer I will give some key points to have into consideration when choosing a market to get started with.