Profitable Niches
Saturday, August 21st, 2010 at 10:06 am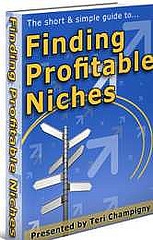 Many people want to start a blog but sometimes they get stuck when deciding what to write about. Nowadays writing a blog is the most effective way to share your thoughts with your niche. Huh? We hear all the time about finding a niche, but some might ask, what exactly is a niche? Or How do you find a niche?. Let's star answering by defining what a niche is. A niche market is a relatively small-size market that contains individuals with very close characteristics and exact needs. So offering a specialized product to that market will raise attention to every single person you are targeting.
But how do you find a niche? One of the first steps for doing that is to take a look around you, markets are everywhere and there are millions. To the extend of this answer I will give some key points to have into consideration when choosing a market to get started with.
- Ask yourself what is that you like.- It'll be very hard to keep up with something that you don't like week after week, month after month as your primary online business. So the question here is, In which fields do you have expert knowledge? Where is your passion? Find a field where you have knowledge and share with people as you build content on your website while sharing your expertise as a "value added" to your site.
- Use Wordtracker and track your Keywords.- Make a list of all keywords and synonyms that describe these fields and related words. You will have several options, list all of them. Track your keywords through a tool to find out how many websites are searched with these keywords, and how many times these keywords are searched for, use Google AdWords and Overture to determine those prices and the ones with the greatest potential.
- Check out your Competition.- Don't worry about the competition. You are unique and nobody else is like you, or sees the world quite like you do. If you're truly passionate about what you do, you'll naturally rise to the top.
If you do your research you'll find some niches that have potential. Once you find yours and feel comfortable with it, hopefully you'll start writing and sharing experiences in your blog with good content. And if doing right your site will rise gradually in search engines, which eventually end up with traffic that you can monetize later.
Focus to get the work done and shut down all distractions. There's no free lunch here, I'm not saying is an easy task but if you're creative and persistent, you will more likely succeed.
Martin Hernandez is a social media enthusiast and Internet marketer entrepreneur, passionate about helping others to achieve their dreams and be successful on line. If you want to improve your lifestyle by leverage your time and increase your income level while having fun contact Martin, he would love to hear from you:
http://twitter.com/MartinHernandz
To know more about him and his team check his website at: http://www.MeetMartinHernandez.com/
Find Your Profitable Niche Market or Niche Markets, Guide to Profitable Niches

Tagged with: Affiliate • find • finding profitable niches • how to find profitable niches • list of profitable niches • Marketing • most profitable niches • Niche • Niches • profitable niches
Filed under: Niche Marketing
Like this post? Subscribe to my RSS feed and get loads more!